Long-simmering policy disputes between Joe Biden, Bernie Sanders, Elizabeth Warren and a slew of other candidates exploded into the open during Thursday night's Democratic primary debate, as the candidates — often with raised voices — laid bare their fundamental disagreements on "Medicare-for-all," immigration and more.
Intermittent efforts by some candidates to show unity and keep the heat on President Trump repeatedly failed, with most striving instead to score an aggressive debate "moment" onstage in Houston. Amid the melee, Pete Buttigieg offered an exit ramp from the feuding as he criticized the Democrats for "scoring points against each other" — prompting Julian Castro to interject, "That's called an election!"
"Yeah, but a house divided cannot stand," Amy Klobuchar retorted, to no avail. The economy, which has performed well by virtually all major metrics in the past year, went largely undiscussed during the raucous three-hour debate. And, even as House Democrats made a push towards potentially impeaching the president this week, that topic conspicuously did not come up either.
Setting the tone
The brouhaha at the ABC News-hosted debate began from the outset, when Biden set the tone by going after Warren directly.
"I know the senator says she's for Bernie," Biden said. "Well, I'm for Barack."
"For a socialist, you've got a lot more confidence in corporate America than I do," Biden shot back at Sanders shortly afterward, after the U.S. senator from Vermont suggested corporations would return the money they currently make on high insurance premiums if his sweeping plan were implemented. Sanders responded by referring to cancer treatment, leading Biden to sharply reply, "I know a lot about cancer — it's personal to me." Brain cancer killed Biden's son Beau four years ago.
The clashes settled any questions about whether the top-tier candidates – meeting onstage for the first time, with the addition of Warren – would hold back. To the contrary, Biden was clearly mindful that Warren has been surging in recent weeks and was ready to fight to hold his frontrunner status, while several candidates continued to pile on Biden as they have at past debates.
Heated clashes
But the most heated clashes of the night came between Biden and fellow Obama administration member Castro, who tangled at length in direct and seemingly personal terms.
"I'm fulfilling the legacy of Barack Obama, and you're not," Castro said, referring to the millions of Americans who lack health coverage — leading Biden to respond, "That'll be a surprise to him."
Castro hammered Biden for claiming that individuals would not be required to buy into his health care plan in order to receive coverage. "You just said two minutes ago they would have to buy in. Are you forgetting what you said two minutes ago?" Castro asked. Some commentators said Castro's jab was an improper, thinly veiled reference to Biden's age. However, Biden did not say during the debate that individuals would have to buy in. Instead, Biden said that individuals would automatically be enrolled if they lost their jobs.
"Anyone who can't afford it gets automatically enrolled in the Medicare-type option we have," Biden had said. "If you lose the job from your insurance company, from your employer, you automatically can buy into this."
Biden responded correctly, as the crowd roared in support of Castro, that he had said that people would be "automatically enrolled" under his plan. Later on, during a discussion on immigration, Castro hit Biden for distancing himself from Barack Obama's record when it suited him, only to emphasize his tenure as vice president when it was beneficial.
"He wants to take credit for Obama's work, but not have to answer any questions!" Castro charged. "I stand with Barack Obama all eight years — good, bad and indifferent," Biden said. "I did not say, 'I did not stand with him.'"
Biden, meanwhile, drilled Warren and Sanders for refusing to directly answer whether taxes would go up under their preferred Medicare-for-all proposal.
"The only question here in terms of difference is where to send the bill," Warren eventually offered. She added: "We all owe a huge debt to President Obama, who fundamentally transformed health care in America, and committed this country to health care for every human being. And now the question is, how best can we improve on it?"
Warren maintained that she had "never actually never met anybody who likes their health insurance company … what they want is access to health care." Sanders, his voice rising, repeated a familiar line in defense of his "Medicare-for-all" plan against supposed distortions by his opponents, saying, "I wrote the damn bill."
"Maybe you have run into people who love their premiums," Sanders barked. "I haven't."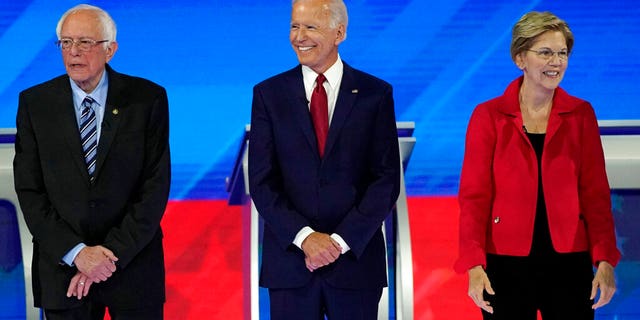 "While Bernie wrote the bill, I read the bill," Klobuchar snapped back later, to applause. Klobuchar, who does not support Medicare-for-all, maintained that millions would lose their private coverage.
Sen. Kamala Harris, meanwhile, insisted she had "always" supported Sanders' health care plan, even as she has publicly waffled as to what would happen to private insurance plans if she were elected. She has said all private health care plans would be eliminated, as Sanders prefers, only to quickly walk back that idea.
Protesters interrupt
Tensions were evident both on and off the stage. Toward the end of the debate, a group of protesters interrupted Biden for nearly a minute — just before he began speaking about personal tragedies in his life, including the death of his first wife and daughter in 1972.
Biden also repeated the inaccurate claim that children were not kept in cages under the Obama administration. The most widely circulated photo of children in cages in immigration detention centers, though falsely attributed to the Trump era, was in fact taken during Obama's presidency.
"Nobody should be in jail for a non-violent crime."

— Joe Biden, during the debate
The former vice president also seemingly made a bungled and anachronistic appeal to technology, urging attendees, "Play the radio. Make sure the television, excuse me, make sure you have the record player on at night, the phone…"
That response came after a question about what Americans can do to help roll back the legacy of slavery. Biden was suggesting that children need to "hear words" outside of the school environment to improve their vocabulary. Then, when a moderator tried to cut off his lengthy answer, Biden fired back, "No, I'm gonna go like the rest of them do — twice over."