Deportation of illegal immigrants hit a 10-year low during President Obama's last full fiscal year in office. The U.S. Department of Homeland Security also appeared to be cutting back on information provided about all three of its law enforcement agencies.
The administration waited until the last Friday of the year to release its final FY 2016 report on Immigration and Customs Enforcement removal operations.
"It's no wonder that they waited for a day when hardly a soul was paying attention; the numbers for ICE are abysmal, even worse than 2015," Center for Immigration Studies Director of Policy Studies Jessica Vaughn reported this week. If there were an award for government reports that aim to obfuscate and spin, I would nominate this one."
Vaughn wrote that the annual reports have historically provided basic statistics from all three of the department's law enforcement agencies. This year, the report sneaked out by DHS officials on the last working day of the month normally, in two versions, was scaled back to provide only a fraction of the information normally disclosed. The reported is compiled by the Office of Immigration Statistics (OIS) which has a new director, Marc Rosenblum.
Vaughn listed the following as key findings from the annual report:
Deportations credited to ICE in 2016 increased by 2 percent. All of the increase came from cases of aliens arrested by the Border Patrol, not interior enforcement.
Interior deportations fell from 69,478 in 2015 to 65,322 in 2016, out of a population of illegal aliens now estimated at 12 million.
Deportations of criminal aliens fell from 63,127 in 2015 to 60,318 in 2016, out of an estimated population of two million.
The total number of deportations under the Obama administration is not easily comparable to prior administrations because of the number of border cases included, but it certainly is not record-breaking, as Obama has claimed.
DHS maintains that CBP arrests have always been a large share of ICE deportations, but in fact this is a new development under the Obama Administration. In prior administrations, only a third of deportations credited to ICE were border cases; now about two-thirds are.
One of the priorities of the Obama Administration was supposed to be deporting criminal aliens and others designated under the Priority Enforcement Program introduced in November 2014. Breitbart Texas Managing Director Brandon Darby dubbed the program "Catch and Release 2.0" in an article published in January 2015.
"Before these changes," a federal agent with U.S. Customs and Border Protection told Breitbart Texas at the time, "all illegal aliens arrested by Border Patrol were required to enter the deportation system where they would be scheduled for a deportation hearing at a future date. Under this new system, the illegal aliens are not even required to show up for a hearing ever."
"Not only are we releasing these people with no hearings scheduled, no notice to appear, but the DHS [Department of Homeland Security] is forcing Border Patrol to prepare the initial paperwork for the illegal aliens' work permits." The source added, "Americans really need to think about the terrorism-related implications of this. Illegal aliens who are suspected of having terrorism ties, but not convicted, could be permitted to stay in the country."
The impact of the new program has been dramatic in a negative way. The charts below show the dramatic decline of interior deportations (called removals by the DHS) and the removal of criminal aliens from the U.S.: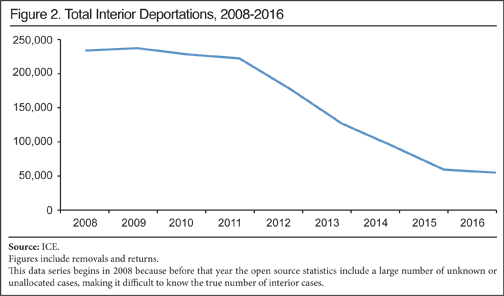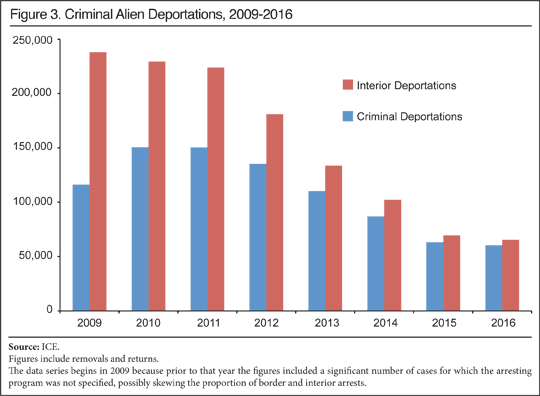 Vaughn reported that 98 percent of all interior deportations were convicted criminals. This means that other migrants who have been crossing the border in massive numbers for the past several years are simply allowed to stay.
Even though the removal of criminal aliens made up nearly all of the interior deportations, the numbers of criminals being deported also continued to fall from previous years. This is not because the country is running out of criminal aliens to deport.
"The main reason for the decline is the Obama administration's prioritization scheme that has steadily narrowed the types of cases that ICE officers are permitted to pursue.
The total number of removals (deportations and voluntary returns) increased by less than 5,000 in FY 2016 compared to FY 2015. However, the total deportation number of 240,000 aliens is 41 percent lower than the peak FY 2012 numbers.
"Obama has the lowest rate of deportations since the Nixon Administration," Vaughn stated. "The administration and its allies frequently point out that more than two million removals have occurred since 2009, an accomplishment that they characterize as record-breaking."
Vaughn explains why this is not true:
But counting only removals as deportations presents a misleading picture of the level of enforcement. Removals are just one form of the deportation process that can be executed by any of the three DHS enforcement agencies (ICE, Border Patrol, and CBP officers at the port of entry). All three enforcement agencies also can process deportable aliens as a return (sometimes known as voluntary return), which is a lesser consequence. In general most border deportations are processed as returns and most interior deportations are processed as removals, but in recent years many more aliens apprehended at the border have been turned over to ICE for a brief period of detention and then removed in recent years, in a departure from the traditional "you catch 'em, you clean 'em" policies, where the arresting agency typically handles the deportation process. In addition, illegal border-crossers who have been removed previously, or who are prosecuted for smuggling or other crimes are turned over to ICE for processing. Under these scenarios, the Border Patrol will count the case as an apprehension, which is their marquee enforcement metric, and ICE will count the case as a deportation.

Under Obama, a much larger number of Border Patrol cases were transferred to ICE for processing than had been the case under prior administrations. In 2008, the last year of the George W. Bush administration, just over a third of deportations credited to ICE were border cases, and two-thirds were interior cases. In 2016, more than two-thirds of the deportation cases credited to ICE were border cases, and less than a third were interior cases.
Rather than using removals as the measurement, Vaughn suggests that a more "apples-to-apples" comparison can be made by examining interior deportations and border removals separately. "Neither the Border Patrol nor CBP publishes the total number of deportations executed, and many of the cases are transferred to ICE, so year-by-year comparisons of border deportations alone are impossible using open source statistics," she stated.
Using these methods, Vaughn concluded that the Obama Administration has completed a total of 5.3 million deportations (both interior and border removals. That number represents about half of those same actions under the administration of then-President George W. Bush. It is not the Obama Administration that holds the record for deportations. Rather, it is the Clinton Administration record with 12.3 million deportations reported.
The following chart provided by the CIS reveals the average number of deportations reported annually: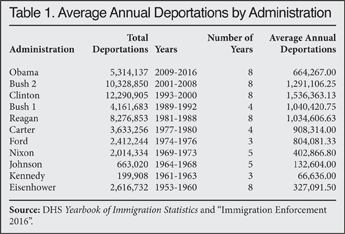 Vaughn was extremely critical of the content of the new annual report released by first-year Director Rosenblum. "The first set of reports prepared under the tenure of new OIS Director Marc Rosenblum, formerly of the Migration Policy Institute, are of dubious value," she stated. She explained that the previous year's reported provided numerous data tables and explanatory materials providing a more neutral view of actions taken by the department. Typically, those reports would provide data covering multiple years for comparison.
"The new reports include only one set of actual enforcement statistics with only five numbers drawn from DHS systems — repeat, five enforcement statistics," Vaughn reported. "Specifically, OIS is reporting: the number of inadmissibility determinations at the port of entry; the number of Border Patrol apprehensions; the number of ICE arrests, the number of book-ins to detention, and the total number of deportations. No numbers are provided for prior years, but percentage changes from 2015 are reported."
Vaughn concluded that the immigration issue will continue to be one of the most important and contentious policy matters facing the new President and his administration. "The incoming Trump administration and Congress must insist that DHS return to a relatively standardized and apolitical manner of publishing the vital statistics of the immigration agencies in order to support this discussion."