President Biden was dragged on Twitter Thursday for suggesting that a second batch of classified documents discovered in his home were securely locked in his garage alongside his Corvette.
Biden sparred with Fox News White House correspondent Peter Doocy over the location of the files. "Classified documents next to your Corvette? What were you thinking?" Doocy asked in a now-viral exchange with the president.
"I'm going to get the chance to speak on all of this, God willing it'll be soon, but I said earlier this week — and by the way my Corvette is in a locked garage. It's not like it's sitting out in the street," Biden responded.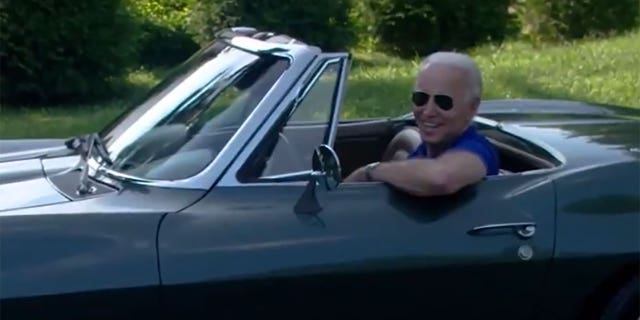 When Doocy pressed the president on whether the documents were stored in a "locked garage," Biden again referenced his car.
"Yes, as well as my Corvette. But as I said earlier this week, people know I take classified documents and classified material seriously," he said. "I also said we're cooperating fully and completely with the Justice Department's review."
The bizarre exchange was widely mocked by the president's critics on social media. "This has a strong Hillary Clinton 'What? Like with a cloth?' feel to it…" GOP deputy communications director Nathan Brand tweeted. Constitutional scholar and attorney Jonathan Turley joked that he had not seen the "Corvette standard" invoked by the president listed as a protocol for storing classified materials. In a follow-up tweet, Turley called the Corvette comment "cringe-worthy."
"Joe Biden takes classified documents so seriously, guys, that he keeps them by his corvette in the garage," OutKick founder Clay Travis chimed in. "I'm sold. Nothing says this really matters to me like keeping it in the garage, the universal place where Americans put things they aren't willing to keep in the house."
Former California gubernatorial candidate Larry Elder tweeted, "Biden says the second batch of classified docs were in his Wilmington garage next to his Corvette. WHAT?!? Biden doesn't own an EV???"
Washington Examiner Magazine executive editor Seth Mandel posted a GIF of Biden behind the wheel, joking that "Biden keeping classified docs with his Corvette is the most Biden thing ever, I can't even be mad."
"Biden: 'I take classified documents and classified materials seriously'. America: You sure did. You put the in your garage where you park your corvette, next to the leaf blower," conservative podcaster Wayne DuPree agreed.
Daily Caller editor Vince Coglianese joked that he hoped the FBI "took a photo of the classified documents spread out on the hood of Biden's Corvette."
A prominent Twitter user with the handle "Catturd" joked that in light of Biden's Corvette fiasco, "Chevy will be offering a new Classified Corvette Biden Addition in 2024 which will have an extra large trunk for all your illegal top secret document needs."
"Joe Biden just defended having classified materials next to his Corvette in his garage by saying, 'My Corvette is in a locked garage.' Biden isn't taking the felony he committed seriously because he knows he'll never be held accountable," Paul A. Szypula, a former U.S. Senate candidate and conservative commentator said.
Rep. Ronny Jackson, R-Texas, called the president's comment "outrageous," and demanded a special counsel appointment following the exchange.
"While Biden was sending his DOJ goons to RAID President Trump's home, HE HAD HIGHLY CLASSIFIED DOCUMENTS IN HIS OWN GARAGE in boxes next to his Corvette!! OUTRAGEOUS! A special counsel is needed NOW!," he tweeted.